motorbikes
I have been riding motorcycles for about 15 years and have learned how to do some maintanance and repair as well. I think all riding is great, but I particularly support women riders! If you want to learn, please, please, please learn from a professional, not from your boyfriend or other well-meaning dude, even if he is an experienced rider. If he were really experienced, he'd tell you to take the Motorcycle Safety Foundation Basic Rider Course. Call 1-800-CCRIDER.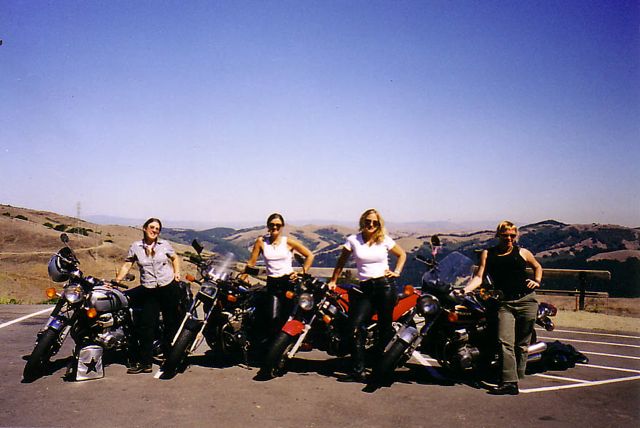 My first bike was 1974 Honda CM400T. My mechanic made fun of it and called it "The Chicken Hawk." I bought it off of a girlfriend who had named it "Metla" which is Croatian for "Broomstick." I bondoed the tank, painted it and dropped it a lot.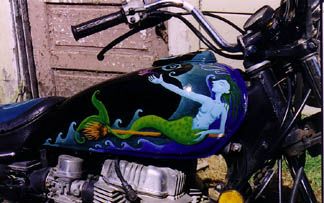 My second bike was a 1975 Honda 550-4. On the day I bought it my mechanic was gone riding. He had a slightly better attitude towards this bike, but still told me I got burned on the price. Anyway, over the 3 years I rode it I improved it alot, adding steel braided lines to the nonstock dual disc breaks, a regina chain and a junk yard scavenged pipe. The best thing I ever did for the bike was invest in an electronic timing plate. Now it starts up and goes right away, every time.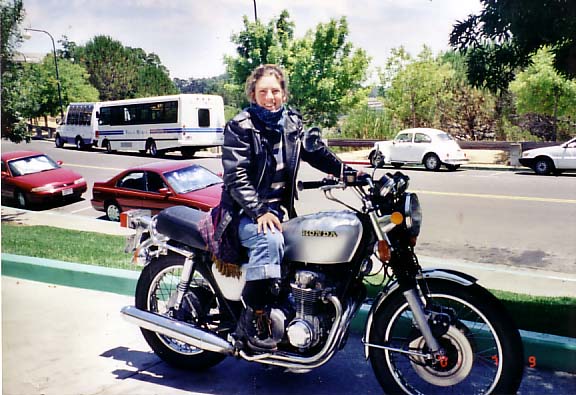 My third bike is a 1971 Honda sl125 dual sportlovingly dubbed Grasshopper cuz it's little and green and cute as a bug. I have ridden this bike on the dirt, on the super-moto track, on a mini-motocross track, inside buildings, along side railroad tracks, straight up mountains and on epic urban dual-sport rides. In the Winter of 2003 I rebuilt the engine, installing a bigger piston, to bring the displacement up to a whomping 149 ccs. Little bikes rock!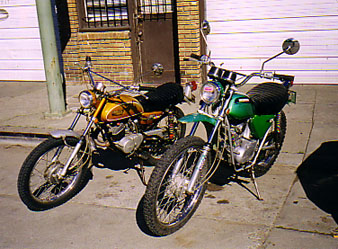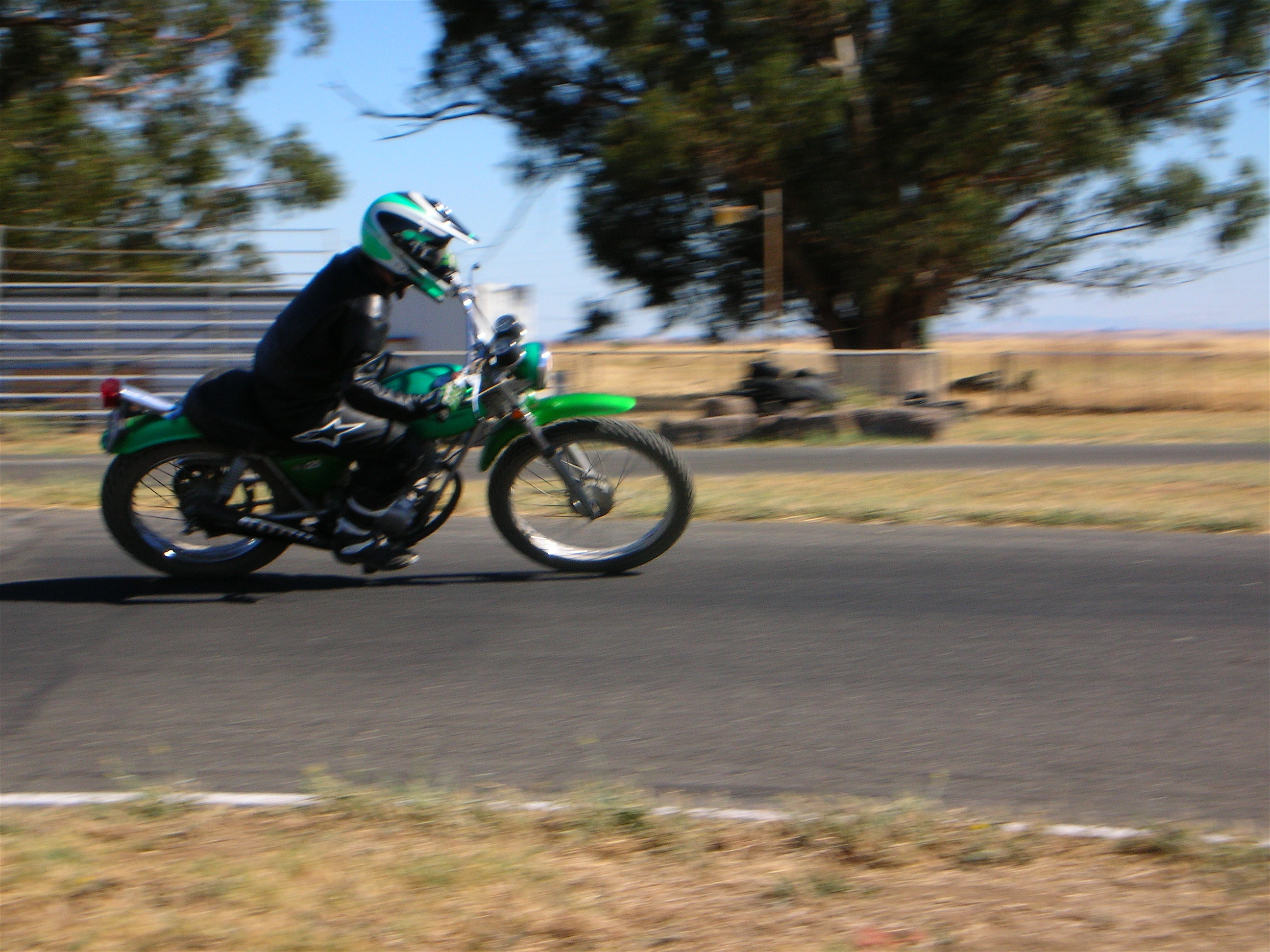 That's me and the Grasshopper on the track at Dixon
In 2004 I sold the 550-4, to an idiot wh immeadeatly smashed it, and finally got myself a "real"streebike, a black 2002 Suzuki SV650. This bike is fast. I got it from another woman rider, with only 2000 miles on it. Some of the work I have done is to open up the airbox ("snorkelectomy") and rejet it to get it to breath better, install the luggage rack onto the original passenger seat for quick release, fender elimination kit and bar backs (ugly, but ergonomic).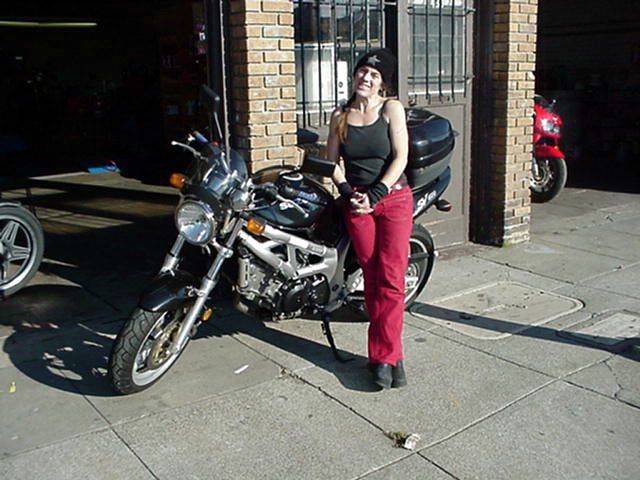 My mechanic Tyer Carson wanted to sell his 400-4, which I had been drooling over. So I picked it up from him sometime in the mix. The clutch is stiff, making it a challnge to ride, but it handles well and looks truly excellent. Those 70s racin stripes! Sweet!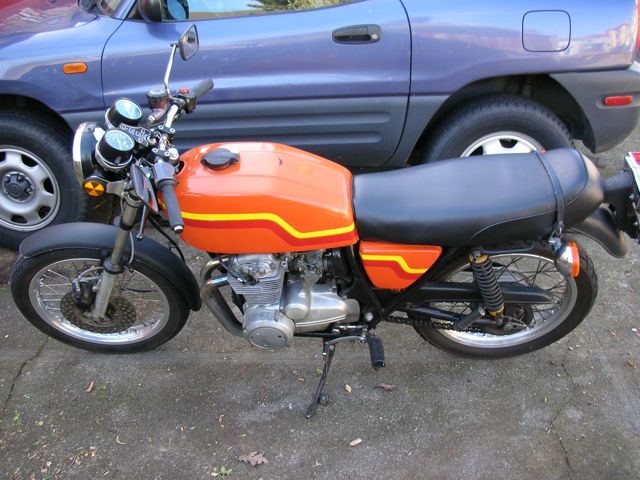 Then I had to get a dirtbike, of course 2007 TTR125LE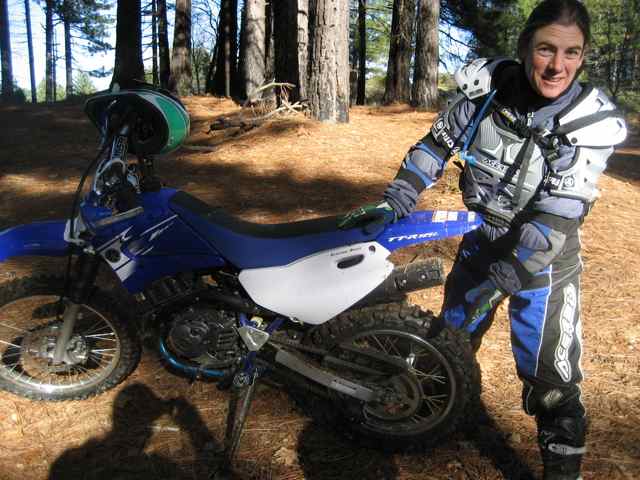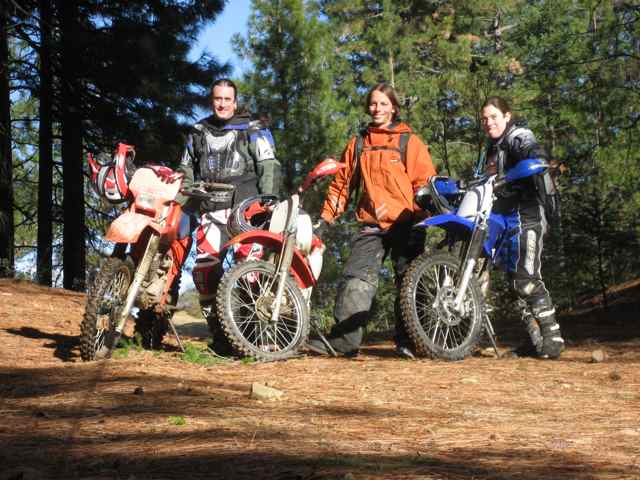 But wait! Theres more. the last and final bike. Small. light. slow but agile. 1989 SRX250. Current Favorite. Now all I need is some time to ride.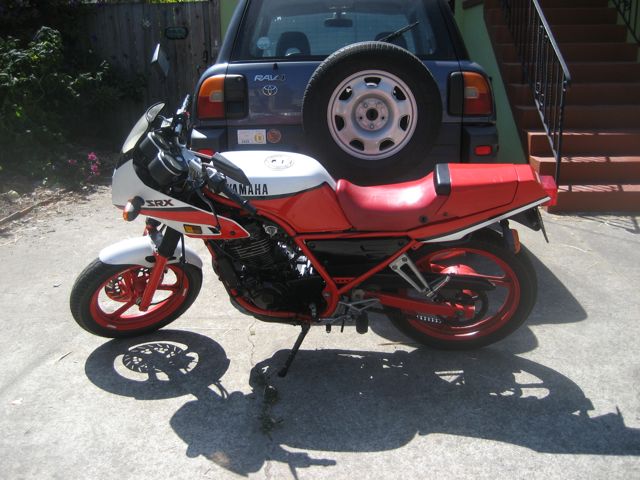 Shiny side up, folks.