LIKES
Bees
honeybee & top bar gallery
native bee gallery
K. Ruby Blume
virtual retrospective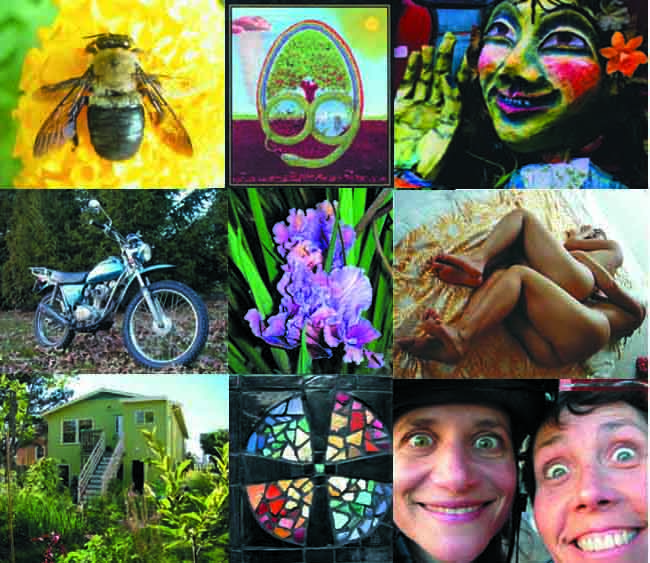 I am an artist, activist, eductor, bodyworker, beekeeper, and gardener. You can see my full bio here, A life-long learner, devourer of information, mad scientist experimenter, deep thinker, endless tinkerer, solver of art "problems" and fussy home repairs, I am in love with the miracle of life, nature's diversity and bounty and all the fun work there is to do around the house and the planet.
There are so many things I am passionate about
Plants, pollination ecology, permaculture, psychology, herbs, radical puppetry, experimental theatre, human sexuality, books, cats, rabbits, quail, goats, art, people, ceramics, mosaic, motorcycles, making, fixing, growing, barter, urban agriculture, sustainability, microbes, compost, fermenting, food, film and much much more.
When I started making websites the world was a different place: it was a radical idea to have a page about ones personal passions on view for anyone to see. Now we have Facebook for that and are bombarded with information from all sides as the private and public sectors collide. So I have streamlined this page, whittled it down to a digestible portion for the errant visitor. Enjoy the links. For my professional work, please return home and follow the links at the bottom of the page.
"When in doubt, just add compost"
LINKS
Projects
CircoZero
BioFuel Oasis
Spiral Gardens
Institute of Mosaic Arts
City Slicker Farms
People
Stonethings ~ awesome jewelry
Mona Caron ~ muralist & illustrator
Michael Rauner ~ photography
Ratka Popovic ~ metal worker
Erik "Jesus" Bjorkquist ~ video engineering & metal fabrication
Dr.Annie Sprinkle ~ Sex Educator, Artist & Amazing Human
Sandy K. ~ Graphic Design
Darshana Weill ~ nutritional counselor
Laura Plotkin/Lola Films ~ Film maker
Dana Zed ~ Glass Artist
Jen Kent ~ Artist